Making things smarter
Edge Impulse is the leading development platform for machine learning on edge devices, free for developers and trusted by enterprises.
Waveform
Crane Operational
Waveform
Crane Operational
Conservation
Elephant Activity
Conservation
Elephant Activity
Crane
Crane Operation Healthy
Elephant
Human Proximity Confirmed
Wearable
Heart Rate Variability
Trusted by thousands of embedded developers running critical machine learning projects across millions of data samples.
Build a model in 5 minutes.
Want to see Edge Impulse in action? Build a model that responds to your own voice in 5 minutes. Collect data, train a machine learning model, and run the model in real-time. No signup required, just click the button below to get started!
Start using your device data
Enable valuable use of the 99% of sensor data discarded today due to cost, bandwidth or power. From getting started to MLOps in production, Edge Impulse provides maximum efficiency on a wide range of hardware from MCUs to CPUs thanks to Edge Optimized Neural (EON)™ technology.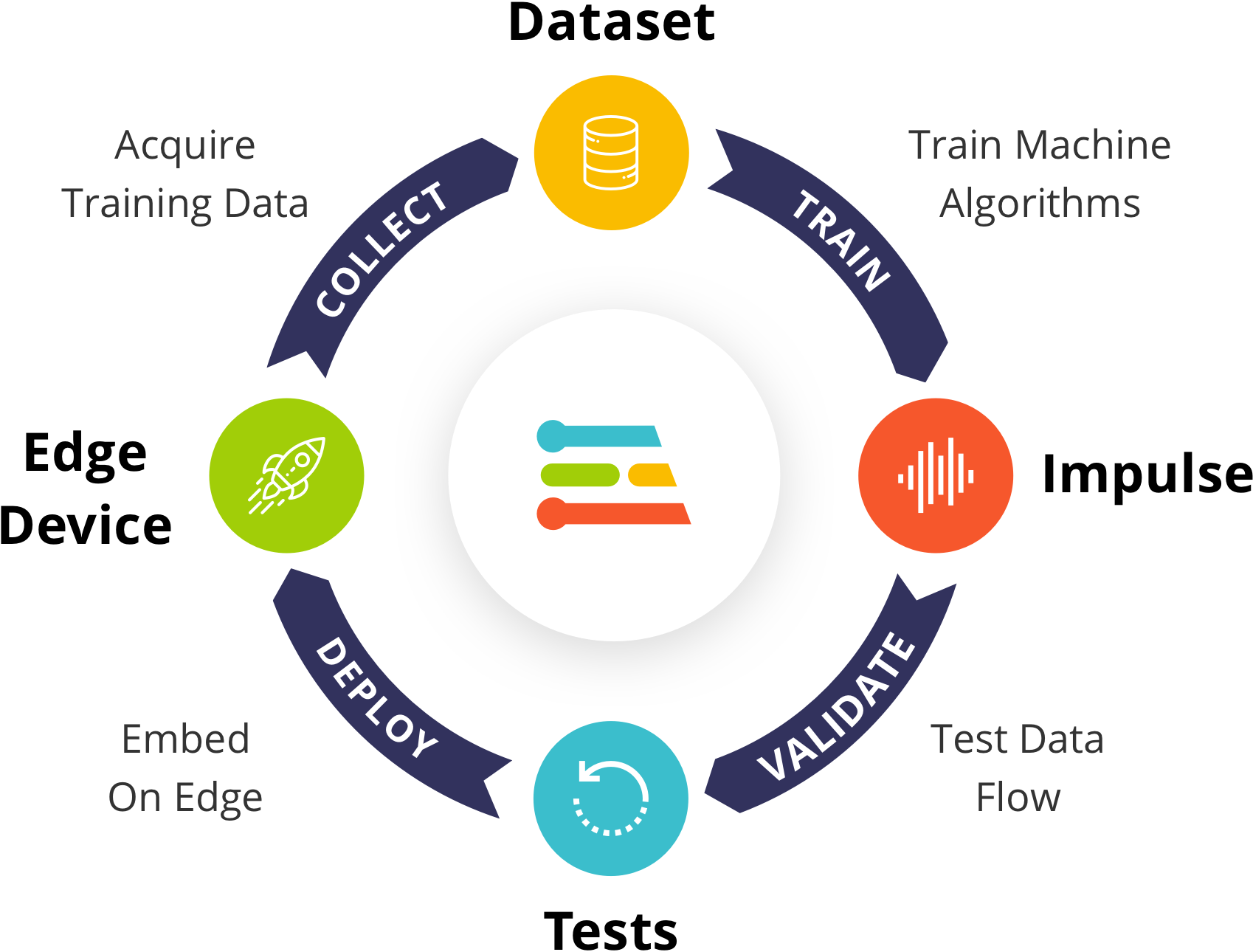 Embedded TinyML for beginner and advanced developers
Edge Impulse was designed for software developers, engineers and domain experts to solve real problems using machine learning on edge devices without a PhD in machine learning. Check out the amazing cloud based UX, awesome documentation and open source SDKs.
Testimonials
The most innovative individuals and organizations use Edge Impulse
Meet some of the leaders who use Edge Impulse to power their embedded machine learning.
"

Edge Impulse enables you to finally use TensorFlow on Microcontrollers. The end-to-end deep learning pipeline enables you to finally create TensorFlow models easily that can run on embedded devices with the click of a button.

Kwabena Agyeman

Founder of OpenMV

"

EdgeImpulse has changed how I think about ML platforms and tooling for the edge! I couldn't imagine a better way to build models quickly with live data!

Kartik Thakore

Sr. Data Scientist, doc.ai

"

IoT developers can now easily embed ML, deep learning, and other AI models directly onto resource-constrained edge devices. Edge Impulse will lead this revolution by building the end-to-end TinyML stack to fuel this growing DevOps ecosystem.

Eva Ho

Founder, Fika Ventures

"

I have to admit I thought this demo was staged. After having tried @edgeimpulse, and ported it on #MXChip over the weekend, I can only say that I'm genuinely impressed. Awesome tool & awesome UX.

Benjamin Cabe

Principal Program Manager, Microsoft
Meet the new industry standard:
Edge Optimized Neural (EON™) by Edge Impulse
This new compiler will kick your #TinyML code into overdrive, and run a neural network in 25-55% less RAM, and up to 35% less flash, while retaining the same accuracy, compared to TensorFlow Lite for Microcontrollers. EON achieves this magic by compiling your neural networks to C++, unlike other embedded solutions using generic interpreters, thus eliminating complex code, device power, and precious time.
See it in action
Get in touch.
Are you interested in bringing machine learning intelligence to your devices? We're happy to help.
Contact us